…And the winner for this years Malaysian Formula 1 Grand Prix is… none of the usual 11 teams that make the starting line up but instead it's, Team Orders! Who?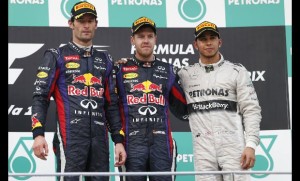 In fact, let me take that one step further and say that the entire podium was filled with drivers from Team Orders.
The unsavory side to Formula 1 once again reared it's ugly head yesterday not once, but twice. Team Red Bull Racing and Team Petronas Mercedes (home race) both decided to 'fix' the results to ensure maximum benefit to themselves at the expense of the racing spectacle and paying racing fan. Both teams had different reasons and different ways of going about it but the results were the same, the drivers placed on the podium were not the most deserving.